Brno is the second largest city in the Czech Republic and it is very close to Zlin, so you can use train or bus.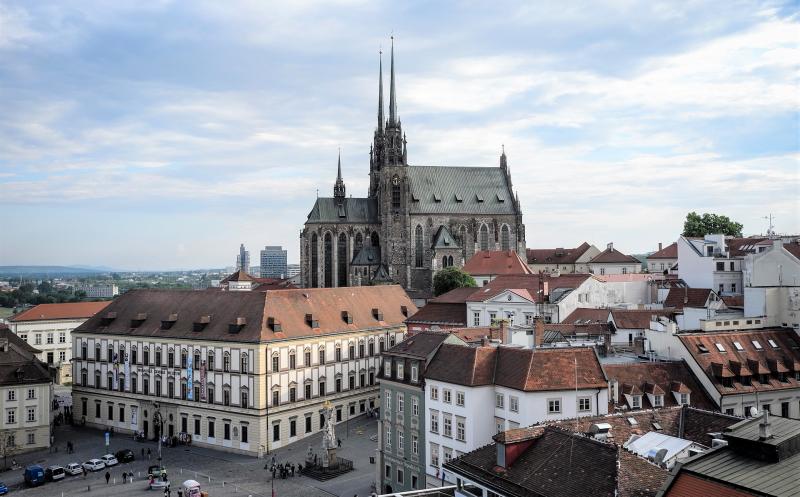 After your landing in Brno during the day, you can use public traffic bus E76 from the Airport directly to the main train station in Brno. The ride takes approximately 20 minutes. If you are going to land in the night, you can use the bus N89 for the same way.  Tickets can be purchased in several ways but the easiest is to pay by contactless card in the bus.  Otherwise, you can use the vending machine in the arrival terminal or pay to the driver such (s)he also accepts Euros.
BY BUS:

You can use again the companies Regiojet, Flixbus or regional bus companies.
 
Regiojet:

To catch Regiojet in Brno, you have to get to the Bus Station which is in front of Grand Hotel Brno. It is very close to the Brno Railway Station.
Earliest bus leaves at 06:30 in the morning, while the latest is at 19:00 in the evening. Only on Saturday, the last bus leaves at 18:30 in the evening. The prices usually vary between 5-7 EUR, depending on the exact bus and the time of booking. However, to get the most recent information, please check the website of the company below.

You can check more information, the full schedules, prices and book your tickets through the website of the company: https://www.regiojet.com/
 
BY TRAIN:

You can reach Zlin by train from Brno Main Railway Station (Brno Hlavní Nádraží). There are a lot of options and it can be used as a connection from Prague as well.

Currently, the first train from Brno to Zlin, leaves at 04:00 in the morning, while the last one at 00:32 at the evening, so it makes it almost 24 hours coverage. Prices may vary from 99 Czech Crowns up to 400 Czech Crowns, depending on the train, class and time of booking.

For more information, recent schedules and prices and booking your tickets, please check the website of the Czech Railways: https://www.cd.cz/en